---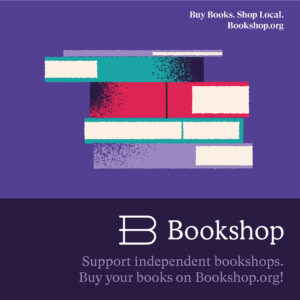 If you cannot make it to our lovely shop you can buy from us on-line!  Every purchase you make from bookshop.org earns us a commission. Bookshop.org is an online bookshop with a mission to support local independent bookshops. If  you follow the links from this page you will be taken to our store front on bookshop.org from where you can  choose from our lists or search for other titles.
About the bookshop
Malvern Book Cooperative is an independent bookshop wholly owned by the shareholder members of the Coop. We are a truly local, independent shop. We sell a wide and eclectic range of new books as well as a small selection of book related gifts and cards.
Our knowledgeable and lovely staff are always happy to help you select books for yourself (go on on, you know you want to…) or as gifts.
We run a rapid ordering service. We can have most in print titles delivered within 24 hours.
Our opening times are:
Monday to Saturday
10am to 5pm

If you are unable to come to the shop we also take orders by email or phone. Your options are:
Email us on enquiries@malvernbook.coop, or call us at the shop during opening hours, and give us the titles you would like to order.
Visit our storefront on Bookshop.org. Browse the site, make your selection and pay. We will receive commission on all books ordered providing you see our logo (see below) on the checkout page.
We look forward to helping you with your bookish needs in person or virtually.

Many thanks for your continued support. We look forward to seeing you in our shop very soon.